First Responders
Ensure keys are available when it matters most
Real-time connectivity with the Keycafe SmartBox key locker system enables granular management of driver permissions on-the-go. Officers and paramedics can easily track down keys during shift changes.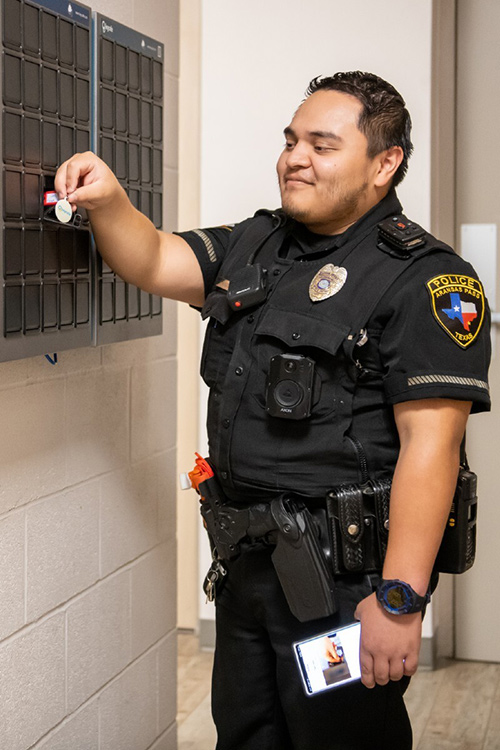 Authorized
Access Only
Limit access for a specific set of keys to ensure drivers can only take their assigned vehicle.
Real-Time
Alerts
Know when keys are picked up and dropped off in real-time so vehicle availability is always clear.
Self-Managed
Key Pickups
Fully self-serve for authorized personnel. An administrator no longer needs to coordinate and track key handoffs in person.
Complete
Audit History
Review access history to know who had access to a vehicle, when they had access and for how long.
"Works well for our Ambulance Fleet. Users can only take out keys they have permission for, and we can see who has any key. The control and settings and simplicity is perfect. This unit replaced an existing unit from another competitor, and works much better. One of the best features is as they build more features and control they are automatically applied via the interface. Great job Keycafe!"
M-Series
SmartBox Modular Key Control
Wall mounted and 4 inches off the wall means it's not much bigger than a picture frame.
Emergency Fleet Access Management Software
Instant cloud-based management
All keys are tagged with a unique and identifiable Keycafe NFC fob. Each time a key is picked up or dropped off at a SmartBox, the time and location of the transaction are logged.
Track all authorized users in one central account
At-a-glance overview of all vehicle keys and who has access, and grant or revoke permissions in real-time from anywhere.
Schedule accesses and retain complete control
Set up ongoing access for trusted users like officers or paramedics, or schedule time-based accesses according to shifts. Always online enabling instant granting or revoking of access to vehicles and assets.
Track down keys quickly
Real time alerts and online key history mean no more chasing down drivers for keys and transparency into a key's chain of custody.
First Responders Love Keycafe
Police Department
"This has been night and day difference in our key management capabilities. People are able to see who is driving their vehicle as they are coming into work instead of spending the first part of their shift trying to track down their keys."
Police Department
"Everyone loves the system. It has saved us a lot of time tracking down keys. Now if a key is missing, we know exactly where to go to find it."
Customize your solution now
Configure and purchase your smart key deployment in minutes. Our 24/7 support team will work with you to set up your solution and ensure it's a success. If Keycafe is not the right fit for your business, you may return it for a full refund for up to 45 days!